The field for the Dustin Johnson World Junior Golf Championship is set, and 28 of the top 100 junior boys and 16 of the top 100 girls will be competing in fourth annual event March 1-3 at TPC Myrtle Beach.
"Dustin wants to create the best junior golf tournament in the world, and we have certainly taken another step toward fulfilling that goal this year," said Scott Tomasello, Golf Tourism Solutions' Tournament Director. "This year's field is on par with the best junior tournaments in the country, and they will be tested by TPC Myrtle Beach, one of America's premier golf courses."
The field of 90 golfers (66 boys, 24 girls) will be headlined by the return of defending champions Michael Brennan (Leesburg, Va.) and Alexa Pano (Lake Worth, Fla.), America's sixth-ranked junior girl, according to Golfweek. Brennan captured the 2018 title in dramatic fashion, making eagle on TPC's par 5 18th hole to finish the final round and hold off Akshay Bhatia, currently the country's top-ranked junior.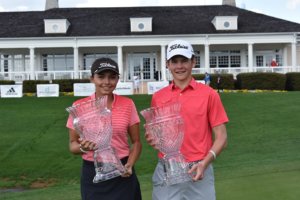 Other headliners on the boys side include No. 15 Jackson Van Paris (Pinehurst, N.C.), No. 22 Nick Dunlap (Greer, S.C.), the highest ranked South Carolinian in the field, No. 27 Gavin Noble (Ringgold, G.A.), and No. 28 George Duangmanee (Fairfax, Va.).
On the girls side, No. 11 Ashley Menne (Surprise, Az.), last year's runner-up, is returning, along with No. 30 Latanna Stone (Riverview, Fla.), No. 43 Jensen Castle (Columbia, S.C.), and No. 44 Erika Smith (Orlando, Fla.).
The only three slots remaining to be filled will be determined by a one-day qualifier at TPC Myrtle Beach on February 9. Two boys and one girl will advance from the qualifier.
With the support of Johnson, the third ranked player in the world, the 54-hole tournament will provide players a PGA Tour-like experience, and the opportunity to test themselves against some of the game's best juniors.
A significant part of the event's appeal is TPC Myrtle Beach, one of the Grand Strand's most decorated layouts. TPC Myrtle Beach has hosted the Senior PGA Tour Championship and been ranked among "America's 100 Greatest Public Courses" by Golf Digest, making it an ideal venue to test golf's rising young stars.
Johnson's involvement with the tournament reflects his long-time commitment to junior golf, particularly in South Carolina, where he grew into one of the world's best players. Through the Dustin Johnson Foundation, which is headquartered in Myrtle Beach, Johnson has donated more than $250,000 to junior golf, sponsoring numerous events throughout the state and helping cover entry costs for kids who need financial assistance.
The Dustin Johnson World Junior Golf Championship is being sponsored by Founders Group International, the Dustin Johnson Golf School, and Golf Tourism Solutions.
For more information, go to www.WorldJuniorGolfChampionship.com.