The Dustin Johnson World Junior

The 6th annual Dustin Johnson World Junior Golf Championship is proud to host an international field comprised of the game's best junior golfers. The tournament, for Boys and Girls ages 13-18, will feature 90 players from around the world and will be played at TPC Myrtle Beach on March 5-7, 2021.
With the support of Johnson, the #1 ranked player in the World for over 2 years, the tournament will provide participants a PGA Tour-like experience, and the chance to test themselves against premier players from across the globe.
TPC Myrtle Beach, which was home to the Senior PGA Tour Championship & 2019 NCAA Men's Regionals, was built with the idea of hosting Tour-level events, and Dustin Johnson World Junior Championship participants will be the beneficiaries. From names on their lockers to placards on the range and live scoring throughout the property, the tournament will provide players an experience similar to what DJ enjoys on Tour.
The early Spring date, which will take advantage of Myrtle Beach's sub-tropical climate, will give juniors a chance to jump-start their season at one of the best events on the calendar.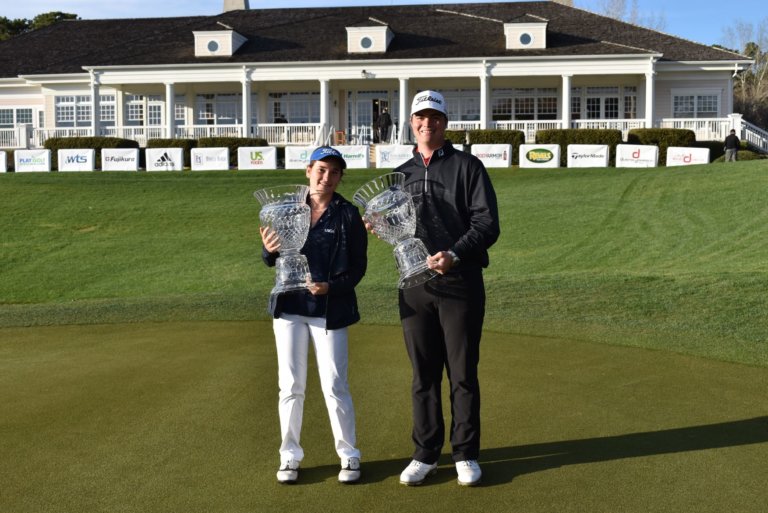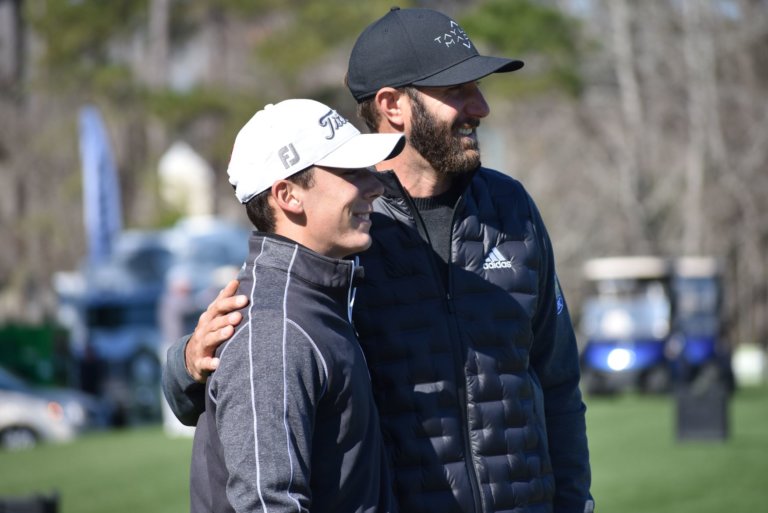 Established in 2016, the Dustin Johnson World Junior provides junior golfers a PGA TOUR style experience. From the southern hospitality of TPC Myrtle Beach to the championship conditions and competition. Alumni of the tournament have gone on to play PGA TOUR events, Walker Cups, U.S. Women's Opens in addition to hoisting some of the games most coveted junior trophies.
Heading into the events' 6th year of play, Dustin Johnson along with the Dustin Johnson Golf School, Founders Golf International,  TPC Myrtle Beach & Golf Tourism Solutions are proud to put forth an amazing experience for junior golfers from all walks of life.
ELIGIBILITY: Entries are open to both male and female amateur golfers who are 13 – 18 years old as of the first round of tournament play. Special exemptions may be granted for those under 13 meeting criteria. All players must conform to the USGA Rules of Amateur Status as specified in the USGA Rules of Golf. The tournament committee reserves the right to decline any participant. The Dustin Johnson World Junior committee reserves the right to review the selection criteria and make changes as needed on a continual basis. 
APPLICATION TIMELINE: All applications must be submitted by January 7th. A total of 87 selections (approximately 58 boys and 29 girls) will be made on January 12th based on applicant priority and composite rank within priority if necessary. Meeting a priority is not a guarantee of acceptance. IE: Assuming more than 87 applicants meet a priority as of January 7th, selections will be made based on a composite rank within priority. Should withdrawals occur, selections will be made on a bi-weekly basis to applicants meeting a criteria until the field is complete. 
Tyler Wilkes
2020 Champion
Akshay Bhatia
2019 Champion
Michael Brennan
2018 Champion
Trent Phillips
2017 Champion
Blake Taylor
2016 Champion
Taylor Roberts
2020 Champion
Skylar Thompson
2017 Champion
Delaney Shah
2016 Champion
SCHEDULE
MARCH 4th: PRACTICE ROUND
All participants are invited to play a complimentary practice round at TPC Myrtle Beach.

9:00 am – 11:00 am – TPC Myrtle Beach
MARCH 5th: TOURNAMENT ROUND I 
9:00 am – 11:20 am – TPC Myrtle Beach
MARCH 6th: TOURNAMENT ROUND II
9:00 am – 11:20 am – TPC Myrtle Beach
A 36-hole cut will accept the top 36 boys and top 18 girls (pending final participant count). 
MARCH 7th: TOURNAMENT ROUND III
8:00 am – 10:20 am – TPC Myrtle Beach
All times are subject to change due to weather. The tournament will not conclude beyond March 7th for any reason. 
GENERAL
ENTRY FEE: The participant entry fee is $250. Entry fee covers 54 holes of competition with a cut after 36 holes, complimentary practice round, player dining and welcome gift package. All applications require a credit card or check to be placed on hold and will not be processed until accepted.
TEE TIMES: Tee times will be Friday, March 5th to Sunday March 7, 2020, from approximately 9:00 – 11:20 a.m. off the Nos. 1 and 10 tees.
CUT: After the second round of play. The top 36 & ties in the boys division and the top 18 and ties in the girls division will play the third and final round. Cut line is subject to final participation.
TOURNAMENT TEES: The Boys Championship will be played at approximately 6,900 yards and Girls Championship at approximately 6,000 yards.
PLAYER HOSPITALITY: Lunch and a complimentary practice round will be Thursday, March 4th. Breakfast and lunch will be provided all tournament days for players. Healthy snacks and beverages will be available on course during tournament play for participants.
CANCELLATIONS: Cancellations need to be submitted in writing to scott@golfholiday.com. Cancellations received prior to end of day February 9th will receive a full refund. Cancellations received between February 10th and February 26th will receive a 50% refund. Cancellations received after February 26th will forfeit their entry fee.
RANKINGS / EXEMPTIONS
RANKINGS: Results will be sent to World Amateur Golf Ranking, SPWAR, AJGA, National Junior Golf Scoreboard and GolfWeek, SCJGA, TYGA and other state associations by request. Specific power, weight, stars, Rolex Ranking Points, performance ratings and overall acceptance of Dustin Johnson World Junior results is at each individual associations' discretion. If you wish to have results sent to your local state/regional association not listed please contact info@worldjuniorgolfchampionship.com.
EXEMPTIONS
Boys Champion will receive exemption to:
2021 Junior PGA Championships

+ 375 Points towards Team USA Junior Ryder Cup Qualifying

2021 Bobby Chapman Invitational
2022 Dye Junior Invitational
2021 Beth Daniel Junior Azalea
Girls Champion will receive exemption to:
2021 Junior PGA Championships

+ 375 Points towards Team USA Junior Ryder Cup Qualifying

2022 Dye Junior Invitational
2021 Beth Daniel Junior Azalea
*Additional Rankings and Exemptions will be listed as they are secured.
TRAVEL INFO
ACCOMMODATIONS: Below are our preferred partner hotels for which you can obtain a discounted rate as a participant in the event:
DOUBLETREE RESORT BY HILTON

3200 South Ocean Boulevard, Myrtle Beach, SC 29577
Two (2) Queen Bed partial ocean view $109/night plus applicable taxes & fees
Phone: 1-800-774-1500
online booking available (group code DJW)

Ellington Condos By Festiva

911 Riverwood Road, Murrells Inlet, SC 29576
1, 2, 3BR condos $60 / $75 / 100 /night respectively + applicable taxes & fees
Call Peter Conti: 843-357-5393
mention Dustin Johnson World Junior.

THE INLET SPORTS LODGE

4600 US 17 Business, Murrells Inlet, South Carolina 29576
Deluxe Studio King Bed or Two (2) Twin Beds

$129 /night Sunday – Thursday nights
$139 /night Friday – Saturday nights

+ applicable taxes & fees

Phone: 877-585-9360
mention Dustin Johnson World Junior.
PRIVATE HOUSING: As another housing option, juniors traveling alone may request private housing for the event. Please contact us to explore the option of private housing on-site.
AIRPORTS:
FLIGHT OPTION #1: Fly into Myrtle Beach International Airport. Located on the south end of Myrtle Beach, approximately one mile from the Atlantic Ocean; it is also easily accessible from U.S. 17 Business or Bypass, 15 minutes from the host venue and 5 minutes from the DoubleTree Host Hotel. Visit Myrtle Beach International Airport's Website
FLIGHT OPTION #2: Fly into Charleston,SC – Flying directly into Charleston, SC can prove to be a less expensive alternative to flying directly into Myrtle Beach International Airport. The drive to Myrtle Beach from Charleston is approx. 2 hours depending on traffic and weather conditions. Visit Charleston Airport's Website
FLIGHT OPTION #3: Fly into Wilmington,NC – Wilmington, NC is also a great alternative for those who'll be lodging in the North Myrtle Beach area. Wilmington is approx. a 1:30 hour commute to the Myrtle Beach area. Visit Wilmington Airport's Website
GROUND TRANSPORTATION:
Local Rental Car Service Available:  Alamo | Avis | Budget | Enterprise | Hertz | National Car Rental | Thrifty
QUALIFIER
QUALIFIER: An 18-hole local qualifying tournament for those not already accepted will be held the morning of  February 6th at TPC Myrtle Beach. The entry fee to participate is $61. It is anticipated the tournament committee will accept two (2) boys and one (1) girl to the full field via the 18 hole qualifying round and is subject to change without notice. Qualifier field will be a maximum of 84 total participants.
It is recommended that all participants not meeting automatic or Priority 1 or 2 criteria apply for the qualifier schedule permitting. Registration for the qualifier will begin November 11th at 10AM ET and is on a first come first serve basis. 
SPECTATORS
Subject to change without notice due to continually updating COVID protocols. 
COLLEGE COACHES:
For college coaches planning to attend, please advise tournament staff at your earliest convenience by e-mailing 
CKing@KingFishCommunications.com
 to make necessary arrangements.
MEDIA REQUESTS:  For media representatives planning to attend, please advise tournament staff at your earliest convenience by e-mailing CKing@KingFishCommunications.com to make necessary arrangements. Amount of media will be limited to no more than four outlets daily.
GENERAL SPECTATOR GUIDELINES: The tournament is closed to the public. Two spectators per player will be permitted on property and must arrive in the same vehicle.
Player Communication:

Keep your conversation with the player to words of encouragement
Per the rules of golf, advice may not be given.
Spectators may not give rulings. Seek rules official if a need arises.

Walking the course:

Spectators should stay on cart paths. In the absence of paths, stay in the rough. Please stay off fairways, tees and greens.
Spectators may not go beyond any roped off areas at any time.
Carts are not available for rental.

Persons with a handicap placard may request a handicap cart and remain on the path. Placard must be presented to the pro shop prior to being provided a cart.

Temporary restrooms are located at the 'Crossroads' intersection.
Phone devices must be on silent at all times.
Be aware of errant shots. Your attendance is at your own risk.

TPC Facilities:

Locker room facilities are for players only. Public restrooms are available.
Food & beverage placed on course and in Grill Room are for participants only.
The Grill Room & Bar is limited to players & parents only between 6:00 – 11:30am.
Please limit your time in the clubhouse at all times.

Always exercise common sense.