Elite Field Shaping Up Once More for Dustin Johnson World Junior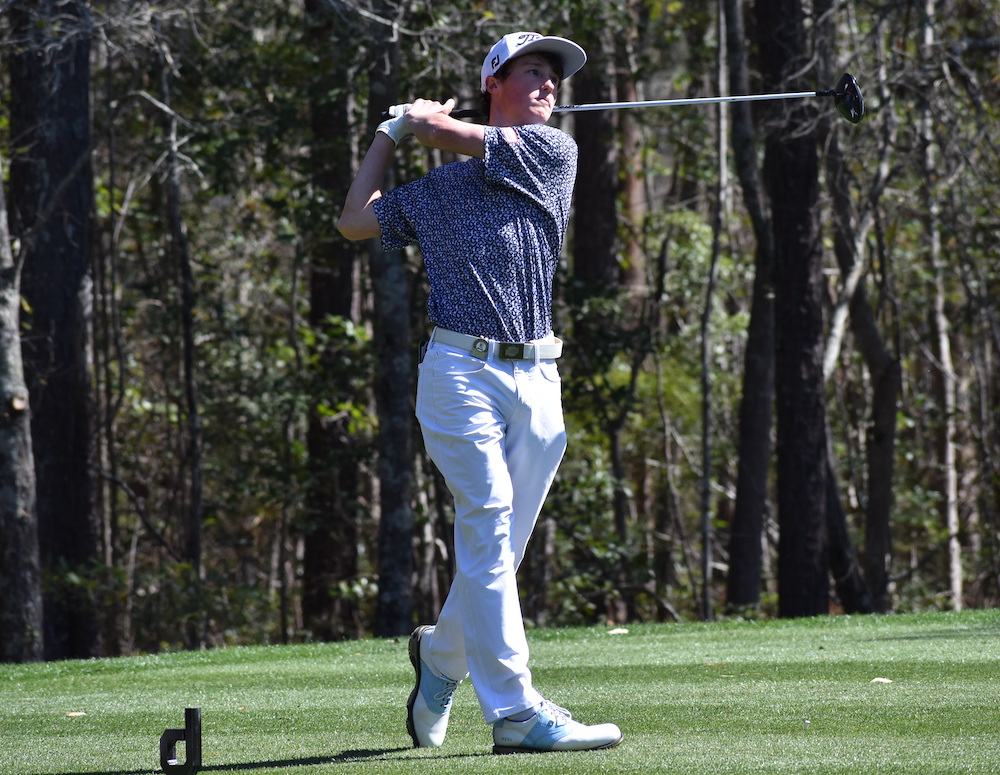 With commitments already in hand from seven competitors currently among the top 10 of a major national junior golf ranking, the 2021 edition of the Dustin Johnson World Junior Golf Championship promises to showcase a world-class field.
David Ford, a Class of 2021 competitor from Peachtree Corners, Ga., is the event's top returning player and the nation's consensus number-one boys' golfer among the junior circuit's leading rankings from Junior Golf Scoreboard (JGS), Golfweek (GW) and the American Junior Golf Association (AJGA). Ford and his twin brother, Maxwell Ford (No. 9 GW), each return after earning top-10 honors in the 2020 World Junior, with David and Maxwell looking to improve on eighth- and third-place finishes, respectively.
Of the Ford siblings, David is riding the hot hand entering World Junior play with recent wins at the Rolex Tournament of Champions, Bobby Chapman Junior Invitational and Junior PLAYERS Championship. His winning streak has even captured the attention of the World Amateur Golf Rankings (WAGR), which currently ranks David 175th among amateur players of all ages worldwide. He will face a stern challenge from event newcomer Brendan Valdes (2021, Orlando, Fla., No. 6 GW), who recently won the Notah Begay III Junior Golf National Championship.
Among the World Junior's many Boys Division returning competitors are the runners-up from each of the past two years: Caleb Surratt (2022, Indian Trail, N.C.), who finished second to 2020 champion Tyler Wilkes; and Luke Clanton (2022, Hialeah, Fla.), who earned runner-up honors in 2019 behind current professional Akshay Bhatia and went on to win the 2020 Arnold Palmer Invitational Junior honoring Jim Bell.
In the Girls Division, Taylor Kehoe (2022, Strathroy, Ontario) brings a top-500 WAGR ranking as the top-rated female golfer in this year's event, propelled by her August 2020 victory in the Randy Wise Junior Open. Kehoe earned a fifth-place finish in the 2019 World Junior and will be challenged by last year's second- and third-place finishers, Yoko Tai (2022, Windermere, Fla.) and Katherine Schuster (2021, Harbinger, N.C.).
In addition to the Ford brothers and Valdes, four additional players bring top-10 national rankings to the 2021 Dustin Johnson World Junior:
Sean-Karl Dobson (2022, Austin, Tex., No. 7 AJGA)
Brooke Biermann (2021, Wildwood, Mo., No. 8 AJGA)
Bruce Murphy (2022, Johns Creek, Ga., No. 9 AJGA)
Tommy Morrison (2023, Dallas, Tex., No. 10 AJGA)
As the Dustin Johnson World Junior Golf Championship enters its sixth year of competition, its steadily growing strength of field has earned it elite status among the game's top junior events. Tournament organizers note that Golfweek has ranked the event's most recent field as the fourth-strongest junior tournament field in the United States for 2020, and point to the high percentage of past World Junior competitors returning to this event as a driving factor behind its rise in prominence. They continue to work feverishly to create an event that all junior golfers invited simply refuse to miss.
With the Jan. 7 application deadline fast approaching for the 2021 Dustin Johnson World Junior Golf Championship, interested competitors are strongly encouraged to submit their entry bid today by clicking here.