Dustin Johnson Golf School's Allen Terrell Receives Carolinas PGA Section's Highest Instructional Honor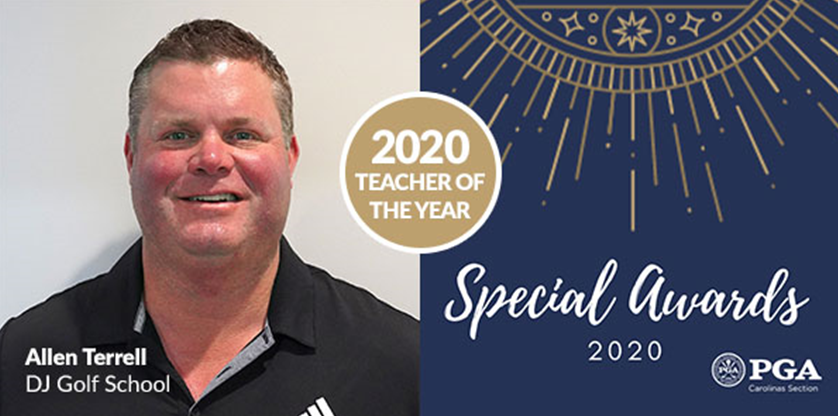 The Carolinas PGA Section of the Professional Golfers' Association has honored Allen Terrell, PGA, director of coaching at the Dustin Johnson Golf School, with its 2020 Palmer Maples Teacher of the Year Award.
The Palmer Maples Teacher of the Year Award bestows special recognition upon a PGA Professional who has performed outstanding service as a golf instructor, with particular emphasis placed on the honoree's performance over the past five years.  Among the Carolinas PGA Section's criteria for which Terrell's body of work was honored includes his impact on teaching and golf instruction in the Section, involvement in junior golf activities at the Dustin Johnson Golf School and the community, and innovative contributions to golf instruction.
"I am very honored to be named the Carolinas PGA Section Teacher of the Year," said Terrell. "Our section has so many great instructors, and it is quite humbling to be associated with such an incredible list of past recipients."
Terrell joins Robbie Fritz, PGA of Greensboro Country Club (2019), Jason Baile, PGA of Belfair Plantation (2018), and Palmetto Dunes' Doug Weaver, PGA (2017) as the Section's most recent Palmer Maples Teacher of the Year honorees. He was also one of 12 recipients of the 2020 Carolinas PGA Special Awards, which featured Rocky Brooks, PGA of Sedgefield Country Club earning the Section's Golf Professional of the Year honors.
Since 2004, Terrell has coached the current top-ranked golfer in the Official World Golf Ranking, Dustin Johnson, who capped his 2020 FedEx Cup Championship and 2020 PGA TOUR Player of the Year honors by winning his second career major last month at The Masters.
Of particular note among his recent accomplishments, Terrell has worked closely over the past six years with his golf school's namesake to build the Dustin Johnson World Junior Golf Championship into one of the game's premier competitions for scholastic-age players. Among the event's prominent participants and winners include 2019 boys' champion Akshay Bhatia (World Amateur Golf Ranking as high as 4) of Wake Forest, N.C., who has competed on victorious U.S. teams in the Junior Presidents Cup (2017), Junior Ryder Cup (2018) and Walker Cup (2019) and has since turned professional and competed in eight PGA TOUR events earning a T9 finish in the 2020 Safeway Open.
Terrell has also earned two honors from Golf Digest this year: a place on the publication's 2020 Editors' Choice list of "Best Golf Schools & Academies," and Terrell's inclusion among South Carolina's honorees in Golf Digest's "Best Teachers in Your State" list for 2019-2020.
"Allen Terrell is a tremendous asset to the golf business and our golf community," said Bill Golden, CEO of Golf Tourism Solutions, whose company promotes Myrtle Beach globally as the world's leading golf vacation destination. "The Palmer Maples Teacher of the Year Award recognizes his record of accomplishment within all levels of golf, as well as his leadership and dedication to growing the game."