Tyler Wilkes & TAYLOR ROBERTS TRIUMPH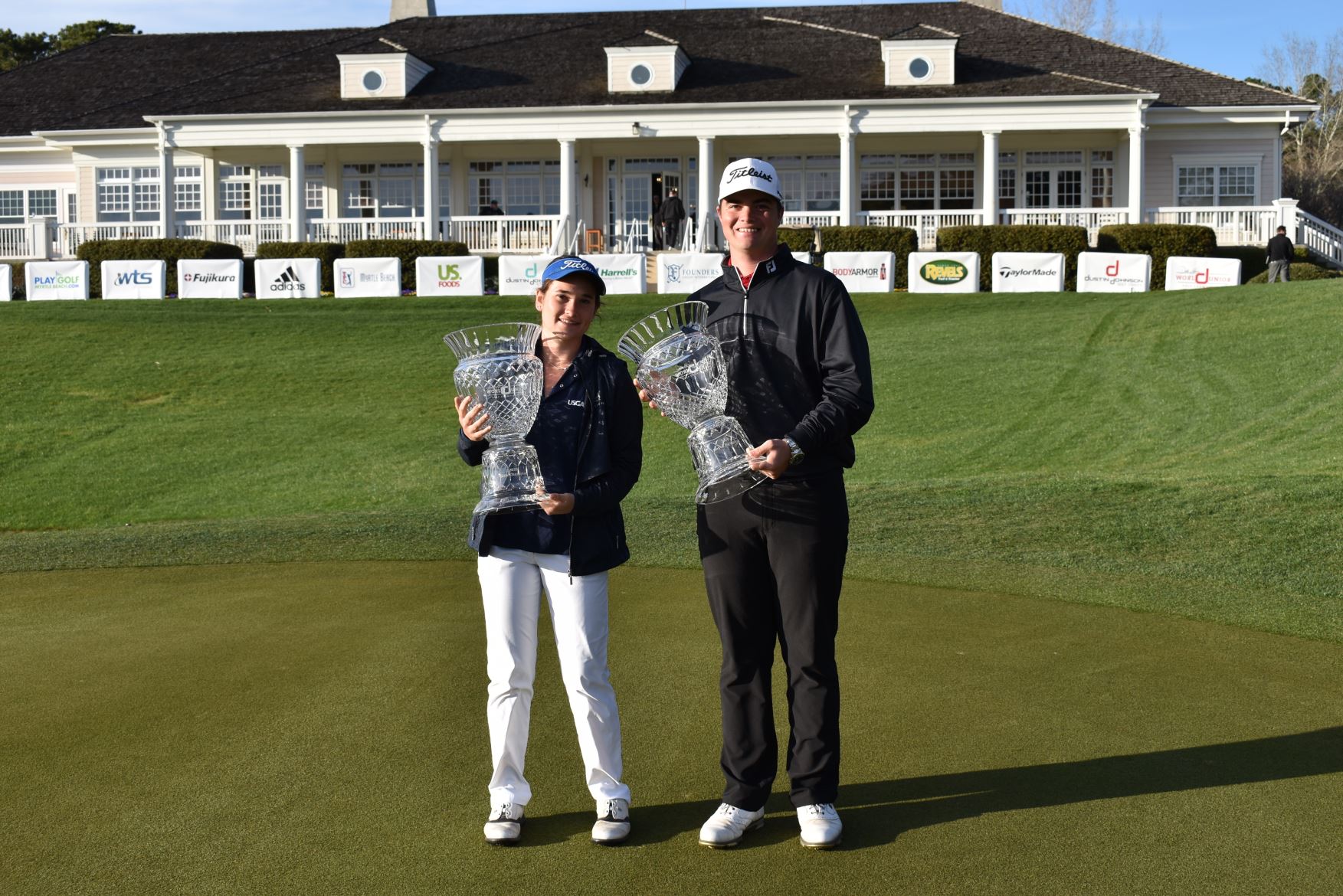 Tyler Wilkes (Tampa, Fla.) emerged from a crowded leaderboard while Taylor Roberts (Parkland, Fla.) rallied from a two-shot deficit at TPC Myrtle Beach to win the boys and girls titles at the Fifth Annual Dustin Johnson World Junior Golf Championship Presented by Fujikura.
[FULL LEADERBOARD: BOYS, GIRLS]
Wilkes shot 72 on Sunday and finished the event at 1-under par, edging Caleb Surratt (Indian Trails, N.C.) by a stroke.
Wilkes started the day with a one-shot lead, but David Ford (Peachtree Corners, Ga.) and Surratt each spent time alone atop the leaderboard during a taut back nine.
A Florida signee, Wilkes trailed Surratt by two strokes stepping onto the 14th tee when the tournament swung in his favor. Wilkes made birdie on the 502-yard par 5, while just ahead of him Surratt made double bogey on the par-4 15th, staking Wilkes to a lead he never relinquished.
He parred the final four holes to close out the narrow win.
"I love this event, and to finally get the victory is something else," Wilkes said. "It was a little nerve-wracking coming down the stretch."
Narayan Mohan (Charlotte, N.C.) and Maxwell Ford (Peachtree Corners, Ga.) finished tied for third at 3-over.
Roberts, a Florida State signee, started the final round two shots behind Katherine Schuster (Kill Devil Hills, N.C.) and bogeyed three of the first five holes, but she gained ground as Schuster made double on holes two and three. Spurred by a birdie at the par-3 seventh hole, Roberts settled down and played well the rest of the way, closing with a 1-over 73.
She finished the tournament at 4-over, good a three-shot cushion over runner-up Yoko Tai (Windermere, Fla.).
"I knew if I just slowed down and kept the same rhythm I've had all week and not get ahead of myself, there would be birdie chances," Roberts said of overcoming the slow start. "I've been hitting the ball well all week … To make birdie on seven was huge."
TPC Myrtle Beach played 6,997 yards from the tips for the boys. The course played 6,018 yards for the girls. The top 40 boys and top 15 girls advanced to Sunday's final round.
BOYS CHAMPION TYLER WILKES POST ROUND INTERVIEW
Girls CHAMPION taylor roberts post round interview
The Dustin Johnson World Junior Golf Championship is a 54-hole, college style event that has quickly grown into one of the top junior events in America.
With Johnson's support, the tournament provides players a PGA TOUR-like experience, and the opportunity to test themselves against a premier field.
A significant part of the event's appeal is TPC Myrtle Beach, one of the Grand Strand's most decorated layouts. TPC Myrtle Beach has hosted the Senior PGA Tour Championship and been ranked among "America's 100 Greatest Public Courses" by Golf Digest, making it an ideal venue to test golf's rising young stars.
The event's past boys champions are: 2016 – Blake Taylor (East Carolina), 2017 – Trent Phillips (Georgia), 2018 – Brennan and 2019 – Akshay Bhatia The previous girls winners are: 2016 – Delaney Shah (Louisville), 2017 – Skylar Thompson (Ohio State) and 2017, 2018 – Alex Pano.
The Dustin Johnson World Junior Golf Championship presented by Fujikura is also sponsored by Founders Group International, the Dustin Johnson Golf School, Adidas, TaylorMade, Dustin Johnson Foundation and PlayGolfMyrtleBeach.com.
Johnson's involvement with the tournament reflects his long-time commitment to junior golf, particularly in South Carolina, where he grew into one of the world's best players. Through the Dustin Johnson Foundation, which is headquartered in Myrtle Beach, Johnson has donated more than $500,000 to junior golf, sponsoring numerous events throughout the state and helping cover entry costs for kids who need financial assistance.