Edmunds, Southerland, Price Earn Qualifying Spots in 2022 Dustin Johnson World Junior Golf Championship Presented by LA Golf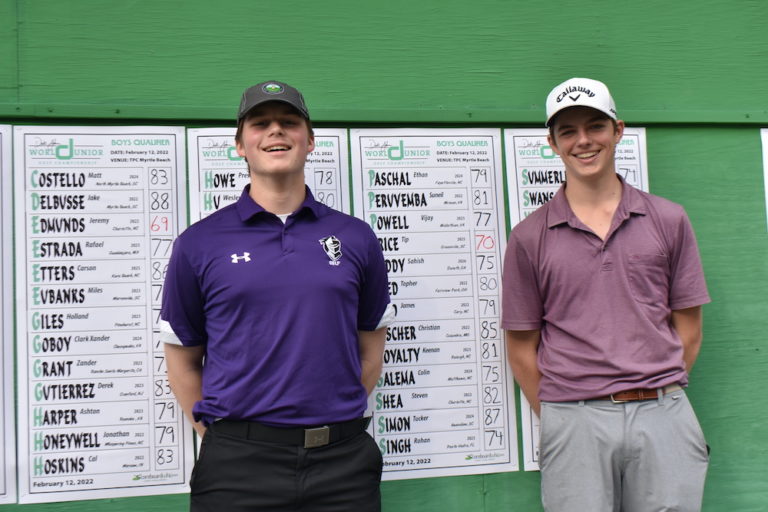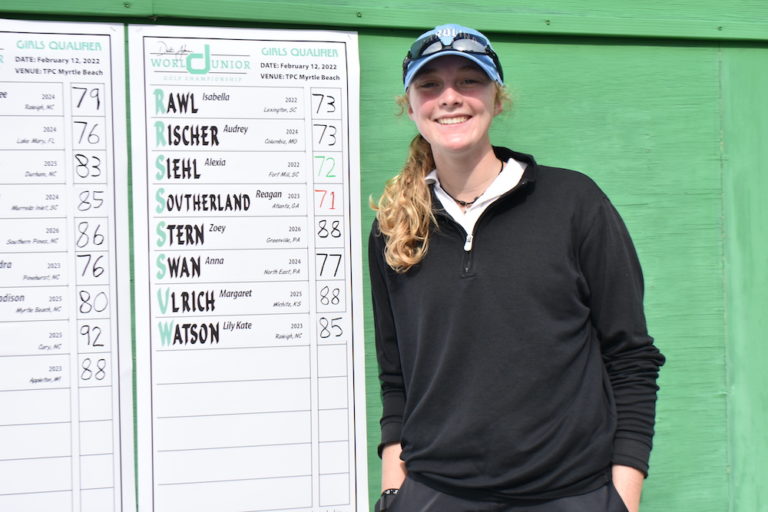 By: Jim Maggio
Sub-par scores from Jeremy Edmunds (-3), Tip Price (-2) and Reagan Southerland (-1) on Saturday at TPC Myrtle Beach earned each player qualifying spots in the 7th Annual Dustin Johnson World Junior Golf Championship Presented by LA Golf set for March 4-6.
Edmunds (Charlotte, N.C.) was among the day's early tee times, and came out strong with birdies on four of his first 10 holes. A fifth birdie on the long par-4 15th hole offset his first bogey of the day on No. 11, giving him the wiggle room he needed to finish atop the qualifying field.
Edmunds would have to bide his time patiently on the practice range to ultimately learn his qualifying fate, as a handful of golfers remained in a fierce battle for a coveted spot in one of junior golf's most prestigious events. Price (Greenville, S.C.), who in 2018 claimed victory in the Drive, Chip & Putt competition at Augusta National, survived a four-player scrum to earn the second qualifying spot with birdies on 16 and 18 that put him one shot clear of three golfers who finished at -1 (Aidan Cole, Craig Long and Joseph Lenane).
Southerland (Atlanta, Ga.), a 2023 graduate committed to North Carolina, was the model of consistency throughout her round, offsetting her lone bogey on No. 6 with birdies on 9 and 14. She and Alexia Siehl (E) were the only players in the women's draw to finish at even par or better.
Edmunds, Price and Southerland were among 79 players (62 boys, 17 girls) vying Saturday for the two boys' division and one girls' division qualifying spot available for the 2022 World Junior. The Dustin Johnson World Junior Golf Championship annually attracts many of the world's elite golfers ages 18 and under, with tournament alumni including Akshay Bhatia, now playing professionally with numerous PGA TOUR starts already to his credit including the 2021 U.S. Open; and 2021 U.S. Women's Amateur Champion Jensen Castle. This year's field, which will once more include 90 of the world's top junior competitors, is already shaping up as one of the event's strongest ever.
PlayGolfMyrtleBeach.com will be reporting daily from TPC Myrtle Beach with full coverage of this year's event, including scoring updates, photos, interviews and more!