Dustin Johnson's Ryder Cup Impact Includes 9 DJ World Junior Alumni Named to 2021 U.S. Junior Ryder Cup Team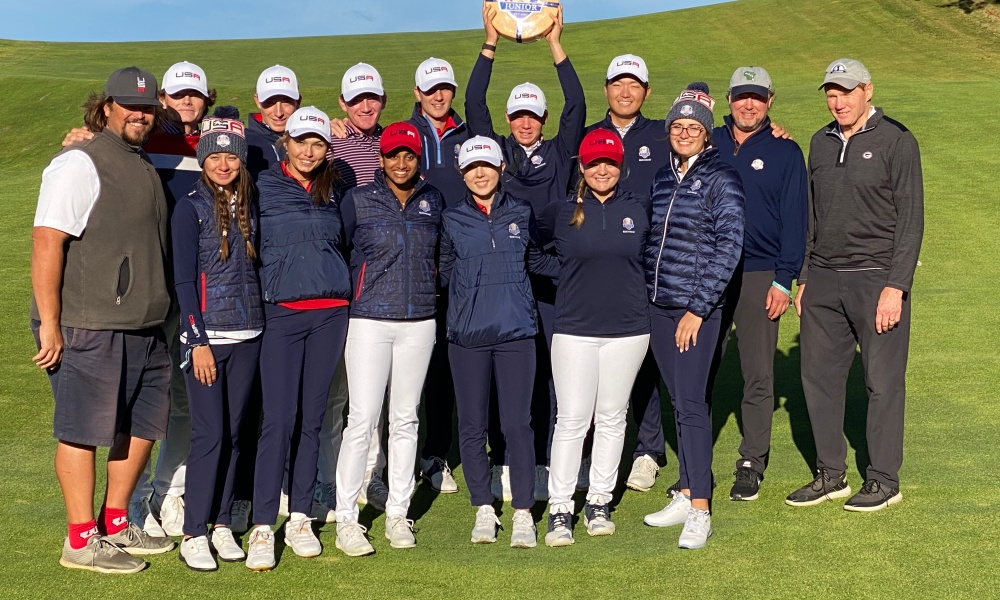 As Dustin Johnson roared to a spotless 5-0 performance this past weekend in leading Team USA to a runaway victory at the 2021 Ryder Cup, he joined a prestigious short list of players to achieve a rare feat. It also turned out to be his second significant Ryder Cup-related achievement in the past two weeks.
Joining in this year's Ryder Cup festivities at Whistling Straits were the 12 members of the 2021 U.S. Junior Ryder Cup Team – a 12-member coed squad of elite junior golfers selected by the PGA of America on Sept. 13, and comprised of nine alumni of DJ's namesake event: the Dustin Johnson World Junior Golf Championship contested annually at TPC Myrtle Beach.
The players named to this year's U.S. Junior Ryder Cup squad include defending DJ World Junior boys' division champion Nicholas Dunlap of Huntsville, AL and two-time girls' division champion Alexa Pano of Lake Worth, FL, who earned back-to-back victories in 2018 and 2019. They're joined on the Junior Ryder Cup squad by two-time DJ World Junior runner-up Luke Clanton of Miami Lakes, FL (2nd in 2021 and 2019) and 2020 runner-up Caleb Surratt of Indian Trail, NC, as well as:
Benjamin James, Milford, CT (5th in the DJ World Junior in 2021; also competed in 2019 and 2018)
Wells Williams, West Point, MS (T14 in 2020)
Sophie Linder, Carthage, TN (Top-10 finishes in 2021 and 2019)
Julia Misemer, Overland Park, KS (17th in 2020)
Avery Zweig, McKinney, TX (competed in 2019)
These players, along with 2021 U.S. Junior Ryder Cup teammates Bryan Lee of Fairfax, VA, Anna Davis of Spring Valley, CA, and Megha Ganne of Holmdel, NJ, boast a long list of additional achievements in junior golf that are chronicled here. They also join a Junior Ryder Cup alumni ranks that include four members of the victorious 2021 U.S. Ryder Cup Team in Jordan Spieth, Justin Thomas, Scottie Scheffler and Tony Finau. Junior Ryder Cup alumni also include 2021 Team Europe Ryder Cup members Rory McIlroy and Sergio Garcia, as well as PGA TOUR players Nicolas Colsaerts and Akshay Bhatia (who won the 2019 DJ World Junior) and LPGA Tour players Lexi Thompson, Yealimi Noh, Brittany Altomare, Suzann Pettersen, Emily Pedersen and Carlota Ciganda.
The planned 2020 Junior Ryder Cup was postponed last year due to the COVID-19 pandemic, and officially cancelled in August due to ongoing travel issues for the European Junior Ryder Cup Team party. The match was originally set for Sept. 20-21 at Blue Mound Golf & Country Club in Wauwatosa, WI. The U.S. Team played an exhibition match at Whistling Straits on Sept. 22, participated in the Ryder Cup Opening Ceremony and attended the first day of competition at Whistling Straits.
The 7th Annual Dustin Johnson World Junior Golf Championship returns to TPC Myrtle Beach March 4-6, 2022, boasting a field of elite junior golfers that's sure to yield the next wave of the game's future stars.
Source: PGA of America