Castle, Greaser Among Slew of Dustin Johnson World Junior Alumni with Top Performances at 2021 USGA Championships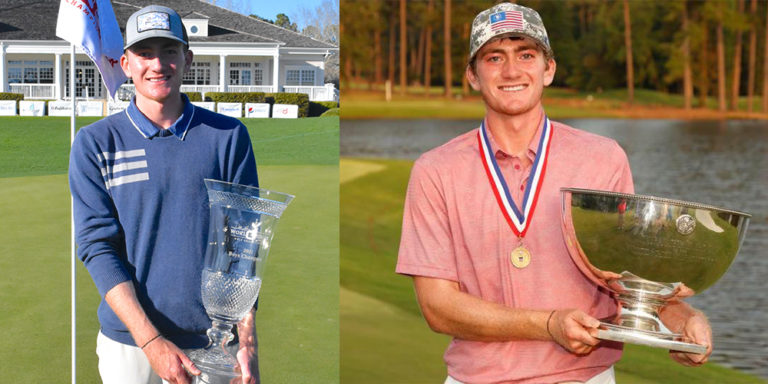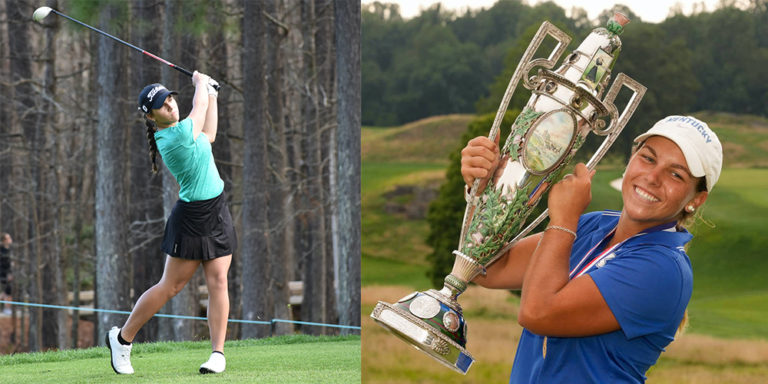 Twenty-one past participants of the Dustin Johnson World Junior Golf Championship were among the top 75 finishers in the 121st U.S. Women's Amateur and 121st U.S. Amateur – including a four-time DJ World Junior player who capped an improbable run last week to capture the U.S. Women's Am title, and a 2019 World Junior alumnus who came within a whisker yesterday of joining her in winning a United States Golf Association (USGA) championship.
Jensen Castle, a rising junior at the University of Kentucky, became the third No. 63 seed in USGA history to win a title, surviving a 12-for-2 playoff just to reach the Round of 64 match play field and ultimately capture the U.S. Women's Amateur with a 2 and 1 finals victory over Yu-Chiang (Vivian) Hou at Westchester Country Club. Castle was a four-time participant in the Dustin Johnson World Junior starting with its inaugural 2016 event, earning top-10 finishes in the girls' division each year and peaking with a third-place showing in 2019.
She was nearly joined yesterday as a USGA championship winner by Austin Greaser, the University of North Carolina star who finished T23 two years ago at the DJ World Junior at TPC Myrtle Beach. Greaser narrowly missed becoming the fourth World Junior alum to claim a USGA or PGA of America championship in 2021, besting 310 players in the U.S. Amateur field to advance to Sunday's 36-hole match play final at Oakmont Country Club. He ultimately fell to Michigan State's James Piot, 2 and 1.
Greaser would have joined Castle and fellow 2021 U.S. Amateur competitors Caleb Surratt, the 2020 Dustin Johnson World Junior runner-up who's on a summer hot streak that includes winning the Junior PGA Championship in July; and Nick Dunlap, the three-time DJ World Junior competitor whose win in March began his own torrid 2021 stretch that peaked with his victory last month in the U.S. Junior Amateur.
Dunlap was one of two DJ World Junior champions among this year's top U.S. Amateur players, with 2017 DJ World Junior champion Trent Phillips advancing to the Round of 32 at Oakmont.
One of this year's U.S. Amateur semifinalists, Nick Gabrelcik, earned a T7 finish at the 2020 DJ World Junior. Gabrelcik returned to the Grand Strand golf links a year later with his University of North Florida teammates, claiming the individual title at the 2021 General Hackler Championship at The Dunes Golf & Beach Club.
Here's the complete list of Dustin Johnson World Junior alumni who placed in the top 75 of the 121st U.S. Amateur. Eleven of these competitors made the cut to advance to the 64-player match play field, with Dunlap among 12 players in a sudden-death playoff vying for the final spot in match play. Dustin Johnson World Junior finishes are noted in parentheses:
Austin Greaser, Finalist (T23 – 2019)
Nick Gabrelcik, Semifinalist (T7 – 2020)
Jacob Bridgeman, Round of 16 (T41 – 2016; 9th – 2017; T20 – 2018)
Caleb Surratt, Round of 32 (2nd – 2020; T14 – 2021)
John Marshall Butler, Round of 32 (T23 – 2019; T10 – 2020)
Bo Jin, Round of 32 (T32 – 2016)
Xavier Marcoux, Round of 32 (T6 – 2019)
Trent Phillips, Round of 32 (1st – 2017)
Jonathan Griz, Round of 64 (MC – 2019; T14 – 2020; T21 – 2021)
Aman Gupta, Round of 64 (T3 – 2017)
Chase Sienkiewicz, Round of 64 (MC – 2019)
Nick Dunlap, Playoff for Round of 64 (T23 – 2019; MC – 2020; 1st – 2021)
Below is the complete list of Dustin Johnson World Junior alumnae who placed in the top 75 of the 156-player field at the 121st U.S. Women's Amateur. Dustin Johnson World Junior finishes are noted in parentheses:
Jensen Castle, Champion (T8 – 2016; 8th – 2017; 7th – 2018; 3rd – 2019)
Sophie Linder, Round of 32 (10th – 2019; T10 – 2021)
Anna Morgan, Round of 32 (T14 – 2017)
Riley Smyth, Round of 32 (9th – 2017)
Bailey Davis, Round of 64 (MC – 2020; T8 – 2021)
Maisie Filler, Round of 64 (8th – 2018)
Latanna Stone, Playoff for Round of 64 (T22 – 2017; 6th – 2018; 2nd – 2019)
Alexandra Swayne, Playoff for Round of 64 (3rd – 2018)
Kynadie Adams, Playoff for Round of 64 (T11 – 2019; T5 – 2020)