Record-Tying Rounds Carry Ben James, Katie Cranston To The Top Of Leaderboard At Dustin Johnson World Junior Golf Championship Presented By LA Golf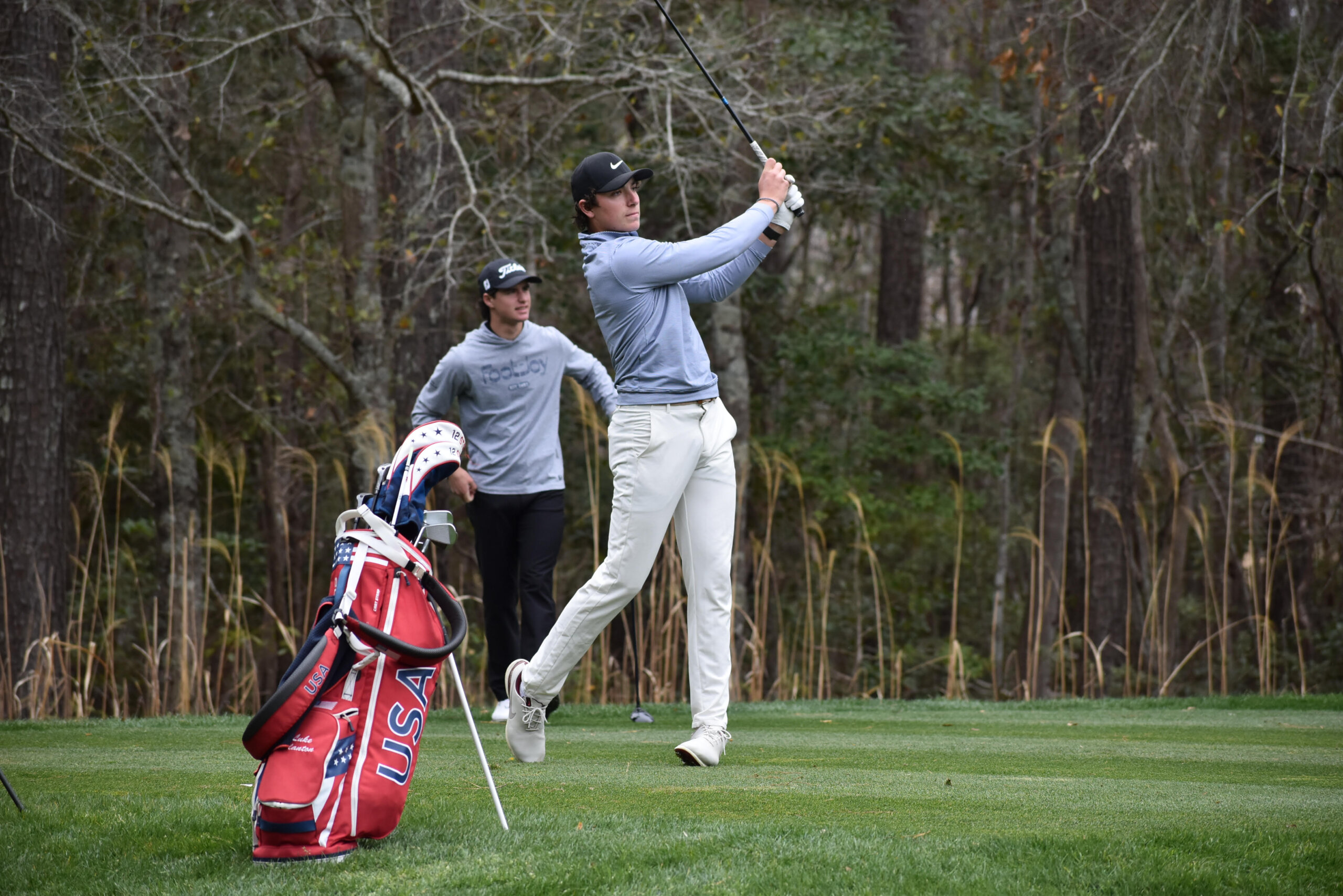 By: Jim Maggio
Ben James (Milford, Conn.), America's No. 1 ranked junior boy, and Katie Cranston (Oakville, Ont., Canada) both equaled tournament records to take opening day leads Friday at the 7TH Annual Dustin Johnson World Junior Golf Championship Presented by LA Golf at TPC Myrtle Beach.
James shot a 5-under 67, an effort highlighted by an albatross on TPC's 555-yard second hole. The University of Virginia signee holed a 4-iron from 244 yards, jump-starting a round that also included three birdies.
James' 67 equaled the lowest round in DJ World Junior history, a mark he now shares with Nicholas Dunlap, Trent Phillips and Gene Ziegler.
Rylan Shim (Centreville, Va.) and Andrew McLauchlan (Neptune Beach, Fla.) are just one stroke back after shooting 68s. Patton Samuels (Clarksville, Tenn.) and Zach Kingsland (Austin, Texas) recorded 69s and trail by two. Eight boys finished round one under par and 12 more shot even par 72.
Cranston birdied three of four holes during a torrid back nine stretch and finished with a bogey-free 68, one shot better than Bailey Shoemaker (Dade City, Fla.). Cranston's 68 equaled the lowest round girls tournament history, matching Alexa Pano and Alexandra Swayne.
America's third-ranked junior girl, Shoemaker put herself in an early hole after bogeys on No. 3 and No. 4, but she played the final 14 holes in 5-under, highlighted by a birdie on the par 5 18th.
Alexia Siehl (Fort Mill, S.C.), Reagan Southerland (Atlanta, Ga.), Abbey Schutte (Goodyear, Ariz.), Nicole Gal (Oakville, Ont.), and Gianna Clemente (Warren, Ohio) are tied for third after shooting 74.
A 54-hole, college-style event, the Dustin Johnson World Junior Golf Championship Presented by LA Golf features boys and girls tournaments and the 90-player field (60 boys, 30 girls) includes 70 top 100 juniors.
The boys field, which has 44 top 100 players, is headlined by James, No. 2 Caleb Surratt (Indian Springs, NC) and No. 4 Luke Clanton (Hialeah, Fla.). All three players are seniors and have signed to play collegiate golf – James at the University of Virginia, Surratt at the University of Tennessee and Clanton at Florida State University.
The girls field is led by junior Bailey Shoemaker (Dade City, Fla.), America's third-ranked girl, No. 13 Gianna Clemente (Warren, Ohio) and No. 23 Lucy Yuan.
With the support of Johnson, the top-ranked golfer in the world, the tournament provides players a PGA Tour-like experience and the opportunity to test themselves against some of the game's best juniors.
A significant part of the event's appeal is TPC Myrtle Beach, one of the Grand Strand's most decorated layouts. TPC Myrtle Beach has hosted the Senior PGA Tour Championship and been ranked among "America's 100 Greatest Public Courses" by Golf Digest, making it an ideal venue to test golf's rising young stars.
The event's past boys champions are: 2016 – Blake Taylor (East Carolina), 2017 – Trent Phillips (Georgia), 2018 – Michael Brennan (Wake Forest), 2019 – Akshay Bhatia, 2020 – Tyler Wilkes (Florida), 2021 – Nicholas Dunlap (Alabama signee). The previous girls winners are: 2016 – Delaney Shah (Louisville), 2017 – Skylar Thompson (Ohio State), 2018, 2019 – Alex Pano, 2020 – Taylor Roberts (Florida State), 2021 – Jacqueline Putrino.
Johnson's involvement with the tournament reflects his longtime commitment to junior golf, particularly in South Carolina, where he grew into one of the world's best players. Through the Dustin Johnson Foundation, which is headquartered in Myrtle Beach, Johnson has donated more than $500,000 to junior golf, sponsoring numerous events throughout the state and helping cover entry costs for kids who need financial assistance.
The Dustin Johnson World Junior Golf Championship Presented by LA Golf is being sponsored by Founders Group International, the Dustin Johnson Golf School, and Golf Tourism Solutions.