Record-Setting Performances Propel Akshay Bhatia and Alexa Pano to Wins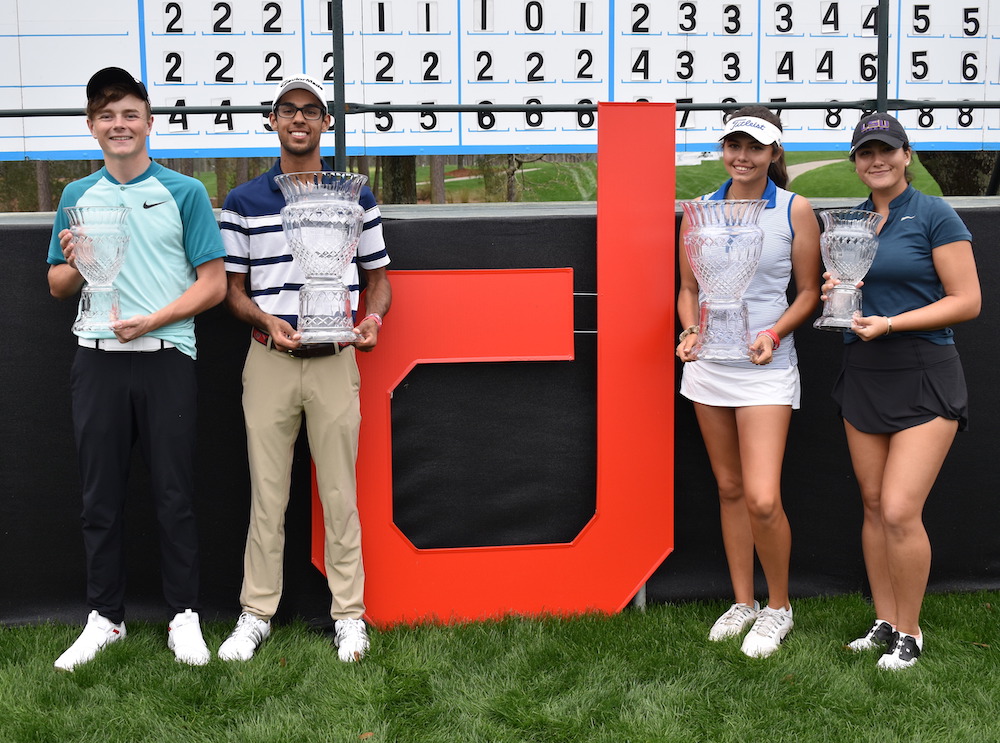 Bhatia, Pano Set New Tournament Scoring Records
 MYRTLE BEACH, S.C. – Akshay Bhatia, the No. 1 junior boy in the world, and Alexa Pano, America's third-ranked junior girl, cruised to record-setting victories at the Dustin Johnson World Junior Golf Championship Sunday at TPC Myrtle Beach.
Pano and Bhatia both set new tournament scoring records.
Bhatia (Wake Forest, N.C.), who entered the final round with a two-stroke advantage, shot 33 on the front nine, staking the 17-year-old North Carolinian to a commanding leading. He fired a 3-under par 69 on the day and finished the tournament at 10-under par, 206, six shots clear of second place Luke Clanton (Miami Lakes, Fla.).
Bhatia shattered the Dustin Johnson World Junior Golf Championship scoring record of 5-under par, 211, previously held by Trent Phillips in 2017.
He also equaled TPC Myrtle Beach's 54-hole, tournament record of 206, set in 2007 by East Tennessee State University's Rhys Davies. TPC Myrtle Beach hosted the General Hackler Championship, a 54-hole collegiate event for 11 years, and the tournament counts Dustin Johnson and Patrick Reed among its alumni.
The course played just under 7,000 yards for the Hackler tournament, just as it does Dustin Johnson World Junior Golf Championship.
This was Bhatia's fourth appearance at the Dustin Johnson World Junior Golf Championship and his performance has mirrored his meteoric rise in the game. He finished 10th in his first two appearances and second in 2018.
Pano's victory makes her the first player – boy or girl – to win the Dustin Johnson World Junior Golf Championship twice, and she coasted to victory. Just 14 years old, Pano (Lake Worth, Fla.) entered the final round with an eight-shot lead.
She played the opening nine in even par, never giving the field a glimmer of hope. Pano shot a final round 71 and finished at 7-under par 209, easily besting her own tournament record of 218.
Pano has played in the Dustin Johnson World Junior Golf Championship twice and been the leader at the end of all six rounds she has played.
Latanna Stone (Riverview, Fla.), a LSU signee, finished the event at 5-over par, good for a second-place finish. Jensen Castle (West Columbia, S.C.), who will be playing for the University of Kentucky in the fall, was a stroke behind Stone in third.
TPC Myrtle Beach played 6,997 yards from the tips for the boys and 6,055 yards for the girls.
The Dustin Johnson World Junior Golf Championship is a 54-hole college style event that has quickly grown into one of the top junior events in America.   
With Johnson's support, the tournament provides players a PGA Tour-like experience, and the opportunity to test themselves against a premier field.
A significant part of the event's appeal is TPC Myrtle Beach, one of the Grand Strand's most decorated layouts. TPC Myrtle Beach has hosted the Senior PGA Tour Championship and been ranked among "America's 100 Greatest Public Courses" by Golf Digest, making it an ideal venue to test golf's rising young stars.
The Dustin Johnson World Junior Golf Championship is being sponsored by Founders Group International, the Dustin Johnson Golf School, and Golf Tourism Solutions.
Johnson's involvement with the tournament reflects his long-time commitment to junior golf, particularly in South Carolina, where he grew into one of the world's best players. Through the Dustin Johnson Foundation, which is headquartered in Myrtle Beach, Johnson has donated more than $500,000 to junior golf, sponsoring numerous events throughout the state and helping cover entry costs for kids who need financial assistance.