Player spotlight: Jensen castle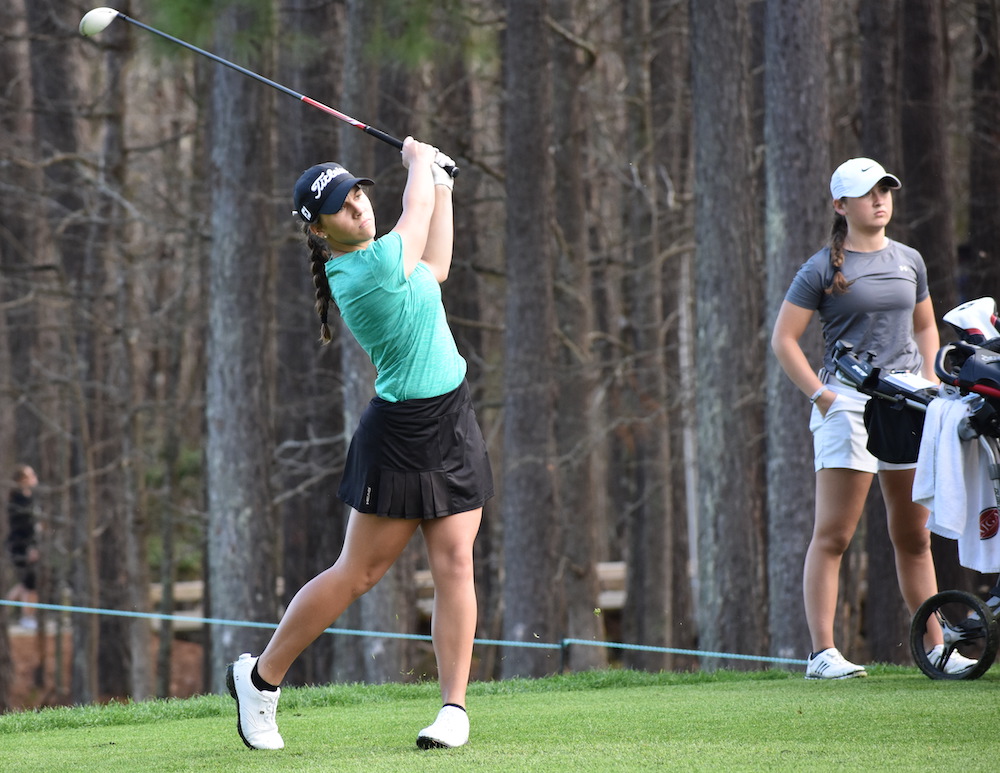 When Jensen Castle was only three years old, she was introduced to golf by her father. Well, sort of, in a roundabout way.
"My mother had work on the weekends, so our dad was in charge of me and my little sister," Castle remembered. "That's when he was playing golf. So he took us with him. He bribed us with candy bars. At first, it was just bribery. I mean, we were too young. Then we got to the part where it was just fun. It didn't revolve around candy bars and sodas any more."
Now a senior at Gray Collegiate Academy in West Columbia, South Carolina, Castle is headed to the University of Kentucky as one of the top-rated junior players in this year's recruiting class. A two-time state champion, this weekend she'll be competing in Dustin Johnson's Fourth Annual World Junior Golf Championship, an invitational 54-hole event at TPC Myrtle Beach that's already considered one of the better junior golf events anywhere. She has finished sixth in each of the first three tourneys.
This time, well, she's confident she can once again be a contender. But …
"As long as I try to do my best, that's all that matters," the bubbly Castle insisted. "You're going to have your days. I try not to put too much pressure on myself. That just makes you feel worse if you don't play as well as you want to. I can only worry about myself. It either happens and it works out or … I pay attention to that other stuff after the round. I can't stress myself out before I tee off."
Castle has seen the Dustin Johnson World Junior grow by a bunch in a short period of time. And she thinks it will only keep getting bigger, even if she can't be a part of it any more after this one.
"It's crazy," she explained. "That first year, it was mostly all South Carolina people playing. I think there might have been a couple from North Carolina. But looking back four years later, you can see how different it's become. There's players from Florida, boys from California, all over. That in itself is just amazing.
"I have nothing but positive things to say about it. It's one of my favorite tournaments, because everyone does a great job. And it's not just the tournament. It's the people running it. The effort they put into it is first-class. They make you feel welcome. The volunteers are so nice. And that can go a long way."
Speaking of which, her ultimate goal is to play on the LPGA Tour. Which obviously is never a gimme. Yet she doesn't seem overwhelmed in the least by the odds.
"It's realistic until I think otherwise," she said. "If you think about it, if I don't think I can do it then I might as well not even try. That's just how I feel. I think that's how everyone should be, if they really want something that much."
Fair enough. However, if for whatever reasons that doesn't work out, she has a Plan B.
"I want to be a businesswoman," Castle said. "I want to open up a Topgolf. I went to one for the first time a couple of weeks ago. I think I have the personality to be good at it. I just don't want to serve people, though. I want to stay around the game of golf, to be involved in something."
And no, she didn't know that a Topgolf was going to be opening in Myrtle Beach on Friday.
"Really?" she excitedly reacted. "Wow. It probably will do well here. I really had a good time. Can't wait to go back."
At this point, time is still definitely on her side. And for the moment, there's an immediate challenge to focus on. That can be fun, too.
"The scores have gotten lower (at this event)," Castle said. "I don't know if it's technology or everyone making each other better. But the field and the scores nowadays are outstanding. So you have to be that much better to succeed. I like it that way. I've worked hard for this. It wasn't just given to me. And I want to make the most of every opportunity."
It's an approach that should continue to serve her well. Wherever the journey takes her.
"I hope to get recognized for what I do," she said. "It's tragic that women pros don't get nearly as much attention as they should, at least compared to the men. People who follow it and care know what's going on, but … they think it's not as interesting because we don't hit the ball as far. They find that more impressive. I mean, look at Dustin. We can't do that. So it is what it is. But there's a lot of (female) players doing some great things out there."
And one day she wants to be one of them. Would you bet against her? How about for a Snickers and a Coke?
Mike Kern was a longtime sports writer with the Philadelphia Daily News who recently retired. In nearly 40 years at the Daily News he covered 25 Masters and U.S. Opens and nearly as many PGA Championships, as well as seven British Opens while winning many national awards for his coverage.