Ben James, Katie Cranston Win Seventh Annual Dustin Johnson World Junior Golf Championship Presented By LA Golf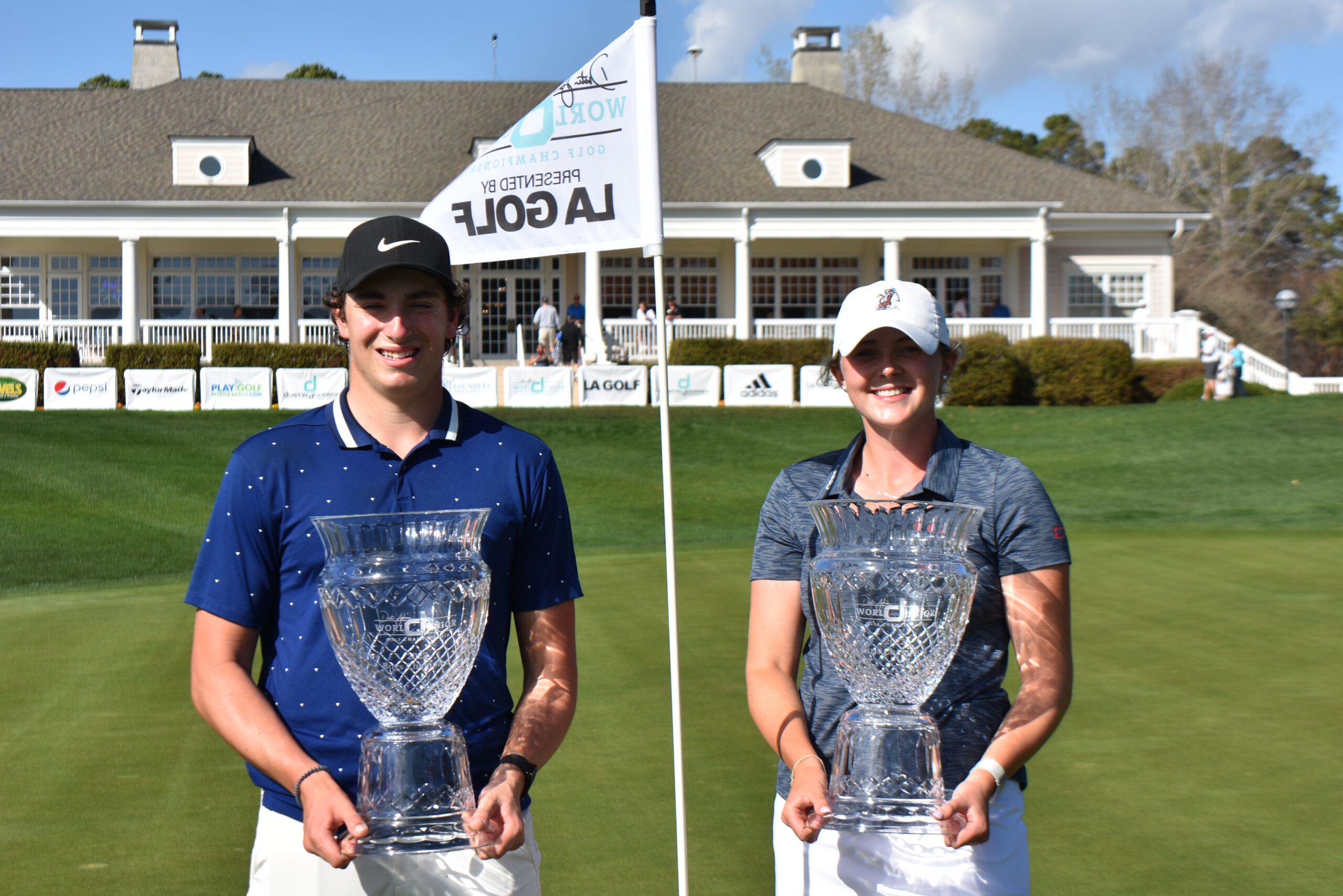 Ben James (Milford, Conn.) survived a sudden playoff and Katie Cranston (Oakville, Ont., Canada) played brilliantly to rally from a four-stroke deficit to win the Dustin Johnson World Junior Golf Championship Sunday at TPC Myrtle Beach.
James shot a pair of 67s in the tournament's opening two days, taking a three-shot lead into the final round, but what seemed like a coronation for America's top-ranked junior turned into a dogfight on a sunny but windy day. The University of Virginia signee, bogeyed four of the first six holes and had a pair of back nine doubles, forcing him to birdie TPC's par 5 18th to shoot 76 and tie Jack Roberts (St., Mary's, Ga.) at 6-under par.
Roberts began the day five shots back of James but fired a 71, including two birdies down the stretch, to earn his share of the lead after 54 holes.
The first sudden playoff in the DJ World Junior's seven years lacked the drama of the final round. Roberts pulled his tee shot out-of-bounds on the 18th hole and James reached the green in two, setting up a comfortable two-putt and the winning birdie.
Erik Plenge (Lima, Peru), Luke Clanton (Hialeah, Fla.), Nicholas Gross (Downingtown, Pa.), Cooper Jones (Highland, Utah) all finished tied for third at 4-under par.
Cranston shot a 68, highlighted by her first-ever hole-in-one on the par three 13th hole. She finished the event at 5-under par, four strokes clear of second round leader Bailey Shoemaker (Dade City, Fla.).
The 68 equaled the lowest round in tournament history and it came on a day when the average score in the girls field was 77.
The highlight of the round was Cranston's ace on the 180-yard 13th hole. She hit a 7-iron to a tucked pin to seize control of the tournament.
Shoemaker opened and closed the day with birdies but struggled in between, shooting 76 to finish at 1-under par. Kylie Chong (Torrance, Calif.), Gianna Clemente (Warren, Ohio), Nicole Gal (Oakville, Ont.) and Alexia Siehl (Fort Mill, S.C.) finished tied for third at +5.
A 54-hole, college-style event, the Dustin Johnson World Junior Golf Championship features boys and girls tournaments and the 90-player field (60 boys, 30 girls) includes 70 top 100 juniors.
The boys field, which had 44 top 100 players, was headlined by James, No. 2 Caleb Surratt and No. 4 Luke Clanton (Hialeah, Fla.). All three players are seniors and have signed to play collegiate golf – James at the University of Virginia, Surratt at the University of Tennessee, and Clanton at Florida State University.
The girls field was led by junior Bailey Shoemaker (Dade City, Fla.), America's third-ranked girl, No. 13 Gianna Clemente (Warren, Ohio) and No. 23 Lucy Yuan.
With the support of Johnson, the top-ranked golfer in the world, the tournament provides players a PGA Tour-like experience and the opportunity to test themselves against some of the game's best juniors.
A significant part of the event's appeal is TPC Myrtle Beach, one of the Grand Strand's most decorated layouts. TPC Myrtle Beach has hosted the Senior PGA Tour Championship and been ranked among "America's 100 Greatest Public Courses" by Golf Digest, making it an ideal venue to test golf's rising young stars.
The event's past boys champions are: 2016 – Blake Taylor (East Carolina), 2017 – Trent Phillips (Georgia), 2018 – Michael Brennan (Wake Forest), 2019 – Akshay Bhatia, 2020 – Tyler Wilkes (Florida), 2021 – Nicholas Dunlap (Alabama). The previous girls winners are: 2016 – Delaney Shah (Louisville), 2017 – Skylar Thompson (Ohio State), 2017, 2018 – Alex Pano, 2020 – Taylor Roberts (Florida State), 2021 – Jacqueline Putrino.
Johnson's involvement with the tournament reflects his long-time commitment to junior golf, particularly in South Carolina, where he grew into one of the world's best players. Through the Dustin Johnson Foundation, which is headquartered in Myrtle Beach, Johnson has donated more than $500,000 to junior golf, sponsoring numerous events throughout the state and helping cover entry costs for kids who need financial assistance.
The Dustin Johnson World Junior Golf Championship is being sponsored by LA Golf, Founders Group International, the Dustin Johnson Golf School, and Golf Tourism Solutions.